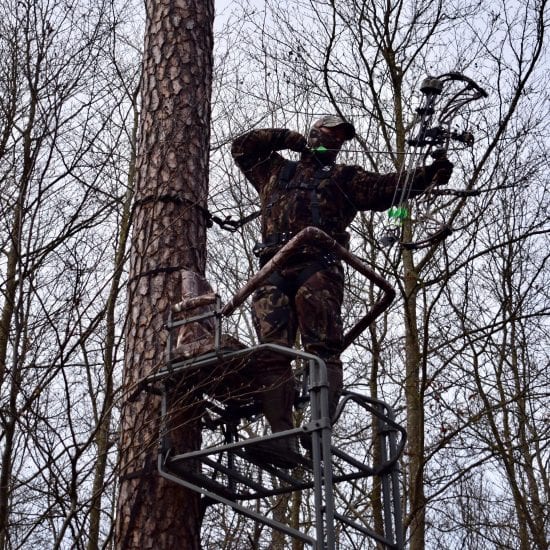 By Katy and Andy Malota WILD Jaeger Pro Staff (Germany)
Lesen Sie diesen Artikel hier auf Deutsch
A new and fast way to hunt. That's what my wife Katy and I have to say about our new Treestand from Summit, here in Germany at Team-Malota.
As we unpacked the "Summit" treestand, we noticed instantly how well processed the metal was. The fit and finish were well manufactured and we could tell it was a quality product right out of the box. The double-rail system made of hexagonal tubes offers maximum stability.
Completely set up, the "Hex" can reach a height of 6.5m. This height gave us the advantage when watching the fields in the "milchreife". We were able to position it exactly where the pigs wanted to be, and thus minimized the damage these pigs are causing in our hunting area.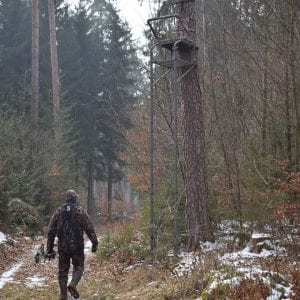 Figure 1 (Photo) Andy Malota walking to his Summit Hex Treestand for an evening bow hunt.
After we set it up once, it was easy to assemble it (see Video) at different places, making the usage very flexible, even it two people are needed to complete this task. Set up correctly the weight comes up to 115lbs or 52 kg. With this stable weight it can hold a bodyweight of up to 350 pounds (158kg).
Another stabilization/safety tool is the slipfree steps and platform, making slipping almost impossible. Furthermore there is the "HEX" system, allowing you to clip yourself to the tree without harming it, which is very important to us, we never want to get into trouble with the Forestbuilders or land owners.
Another important feature is the material on the seats, back area and on the arm rest, which is designed with durable and beautiful "Realtree" camouflage. To keep yourself safe, is it recommended that you always use the safety belts, which you should always use when you begin your climb. If you are sitting for to long, it is possible that you might fall asleep, causing you to fall. This is prevented by the system, which is included with the set.
Here is the data;
Length : 6,5 m
Weight : 115 lbs (52 kg)
Weight limit : 350 lbs (158 kg)
Seat and seat size : Polstered Foam with a backrest all in Realtree camo
22,75 Zoll to 31,5 Zoll
Platform size : 23,5 Zoll to 31,5 Zoll
Price : 399,99$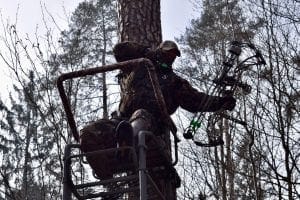 Figure 2 (Photo) Andy Malota at full draw sitting in his SummitHex Treestand
For Team-Malota, this has become an indispensable tool for the regulation of pigs and for hunting overall.
Weidmansheil
Your Katy and Andy Malota from the WILD Jaeger-Team Facebook Page