By Roger Pettersson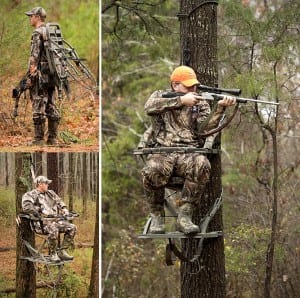 I use the Summit Viper tree stand (climber) quite often mainly while bowhunting; but also to scout new locations before I put more permanent ladder stands out.
Usually a review is done by someone testing a brand spanking new product which is always good and an interesting read. However, it lacks a long time usage review for obvious reasons. I have had my climber for about 7 years now, and I use it probably over 200 hours each season. I can give you the details that most other reviews are missing.
Why did I choose a Summit?
I picked one that I felt looked like it would be both comfortable and useful for bowhunting. Price was another issue that mattered of course. The total weight of the climber was not as important since I rarely lug the thing around for any long distances, 1 km max. I bundle it together and added some carrying straps to it, so I can haul it on my back with greater ease.
Out of the box!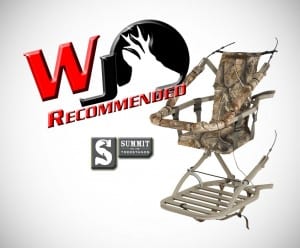 You need to assemble some parts of the Summit Viper; for example, all the seats and padding on the frame as well as the stir ups. All this is done easily and the seat and padding are of great quality! However, the armrest padding as well as the front frame padding must be fastened using those thick plastic ties. The ties function well, but I'm not a fan of plastic wire ties.
My stand has been around for a while, and I have left it out in the woods for many months at a time. Sure the fabric is a bit bleached out by now, but there are no holes, rips or tears in it so yes the fabric quality is excellent!
The comfort of the seat is excellent as well. I have spent as many as 8 hours sitting in my stand, without feeling any discomfort in my behind or back which makes for a good hunting experience. I do alternate by standing up now and then to stretch my legs. But, I know other hunters who actually fell asleep in the climber just because it's so comfortable.
Wear and tear!
As I stated earlier, I use my climber A LOT! And thus far nothing, I mean nothing has broken on it, which shows that the product is very reliable. There is however one thing you will need to replace and that is the cables that wraps around the tree. The plastic on the cables eventually wears out, and when it does the adjusting part becomes more difficult. Summit can provide you with new ones when this happens, for me it took about 4 years of usage before they got worn to the extent of needing replacement.
Usage!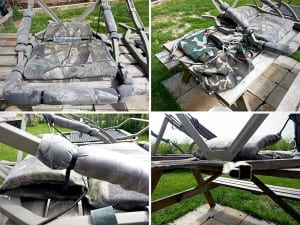 The climber is easy to use and it is also quiet while climbing, which is very important to me. Yes, yes it does make some noise. But, if that is something you are concerned about, do what I do. I usually go out a day or two ahead of time to pick the tree I want to use; I climb it, cut any branches that need cutting and then leave my stand there for a day or two. When I come to hunt I know it's already mounted and the climb is a cake walk. This way I also do not spook any nearby Roe deer unnecessarily.
Personal modifications!
Of course I have made some personal adjustments to my climber, after so many years of using it. I know Summit provides bags you can hang on the side, heck I just made my own which was very simple. I use it for water, the range finder etc. I use another bag to hide the cords used to lift up my back pack and bow. I also added a rubber mat to the platform, because I always seem to have a piece of stone stuck to my boots. The stones usually make a scraping noise when I move around in the stand. The rubber mat also provides protection in case I drop any small objects and saves me from climbing down again!
Overall impression
I am really pleased! The climber is one of the best investments I have made and it never fails me! This is very important to me as a PRO Bowhunter and hunting guide. I need to know my equipment works every time just as my bow should. If you are thinking about buying a Summit climber, I say go ahead, you will love it!